Big Data Made Easy. The Sonra Hadoop Quick Start Appliance
Big Data: Huge cost savings and revenue opportunities, but daunting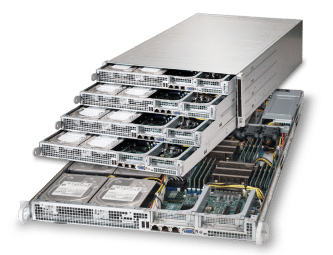 Hadoop is a core component of the modern data platform. It is not only up to 25 times less expensive per TB than traditional solutions but also opens up new revenue streams. However, Big Data can be daunting. Businesses need to acquire expertise in a lot of areas to be successful.
• Which Hadoop distribution is enterprise-ready?
• What is the optimal hardware for my use case?
• On premise or in the cloud?
• Which Hadoop components are right for me?
• What is the right data architecture for my solution?
• Will we find qualified resources?
Get Started with Big Data quickly
At Sonra we understand the difficulties faced by businesses when they begin their Big Data journey. We help you get started in days or weeks and immediately reap the benefits of Big Data with our Hadoop quick start solution. Sonra have packaged Supermicro optimised Hadoop hardware with MapR, the prime Hadoop distribution, and added our years of Big Data and Hadoop experience into the mix. Our architecture blueprints cover popular Hadoop use cases such as data warehouse offload, data lake/enterprise data hub, clickstream processing and KPIs, and predictive analytics.