Big Data News: Hadoop User Group (HUG) Ireland's morning briefing and MapR's new Product Launch called "Streams"
HUG Ireland's great morning briefing with Alexey Grishchenko and MapR is now directly competing with Apache Kafka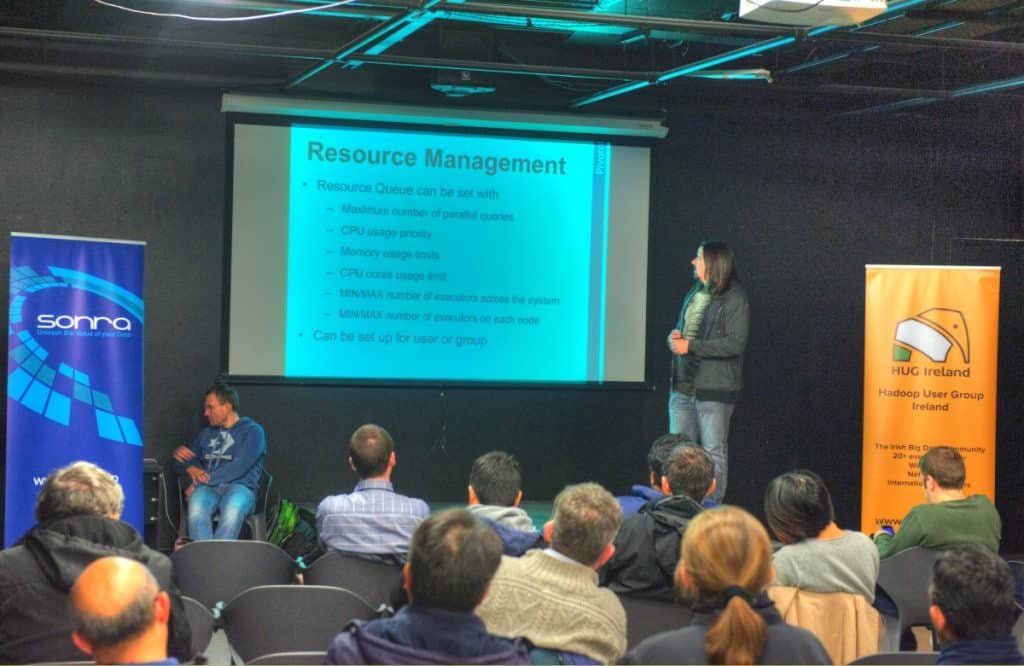 Last week was a busy one in operations for the Sonra team with all hands on deck, which is why we are a little late writing about a powerful HUG Ireland morning briefing with Alexey Grishchenko, which was sponsored by Sonra and very well received by members of HUG Ireland.
Alexey gave 4 great talks on the open sourcing of Greenplum Architecture, Apache HAWQ Architecture, MPP V Hadoop and Alexey's vision for Modern Big Data Architecture. The session was detailed and insightful for all in attendance with after event comments like "epic", "just what we need" and "great" punctuating the conversation post event. The exploration of Greenplum from its Postgres origins to HAWQ as it forked from Greenplum gave the audience a clear understanding of how both came into being. Also, clear insights were delivered by Alexey on how MPP and Hadoop fit into the 'picture' of a modern big data architecture that focuses on some core deliverables including availability as a core requirement in any solution. Another fascinating aspect of the talks was the approaches to data distribution and how they aid successful partitioning. Alexey's insights were well received and everybody at HUG Ireland looks forward to hearing more from Alexey in 2016.
On other news in our community this week, MapR has just announced a new streaming product called Streams. Streams basically is an integrated data streaming engine that unlike Kafka can run inside a Hadoop cluster. This as such is noted by MapR as integrating data streaming into the data layer on Hadoop completing MapR's "converged data platform" offering. As a product, MapR Streams can be considered a direct competitor with Apache Kafka separating itself as a key element in completing MapR's integrated offering heralded as a "converged data platform". This single stream approach has many benefits including lower latency in data processing, auditability and extensibility given Streams processes data streams for downstream consumption by the likes of Apache Spark and Apache Storm. It's worth noting that MapR's vision is flexible enough noting "converged data platform" will continue to support the Apache Kafka API providing options for its customers on what kind of streaming engine they wish to use. Needless to say, architecture is everything in Big Data so being able to integrate new products into an existing architecture is key. It's a risky proposition to migrate to a new architecture but given the evolution in technology we see week in, week out, the positives are catching up with the negatives… an exciting thought indeed.
Finally, if you are in Dublin, Ireland and available for HUG Ireland's final meetup in 2015 at Accenture Buildings, 4th Floor, 1 Grand Canal Square (main door to the left of Bank of Ireland), we would love to meet you there. It promises to be a great session with Wu, Brian and Floran. Have a great weekend all!

About Sonra
We are a Big Data company based in Ireland. We are experts in data lake implementations, clickstream analytics, real time analytics, and data warehousing on Hadoop and Spark. We also run the Hadoop User Group (HUG) Ireland. We can help with your Big Data implementation. You can get in touch today, we would love to hear from you!