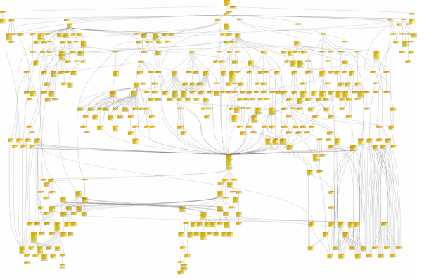 Escape XML Schema Hell with Flexter
The Problem - Why Flexter?
More than 90% of enterprise data is locked away in proprietary and complex structured formats such as Excel, XML & EDI (e.g. industry standards HL7, HIPPA, ISO 15000-1: ebXML, OTA etc.), MS Access, JSON, Word documents just to name a few. Generating insights from this data is a manual, complex, slow, and labour intensive process. As a result data in these formats often is unavailable to decision makers. Strategic decisions potentially involving billions of dollars are taken without considering all of the available information.
Why does this problem exist?
Data formats in the enterprise are primarily designed for operational purposes to support an organisation's business processes. They are optimised to help employees get on with their daily job. However, for the purpose of data analytics data needs to be organised into a tabular format consisting of rows and columns. This is often referred to as structured data.  Data in proprietary formats and complex structures first has to be processed before it can be used for data analytics.
The Solution
The idea for Flexter was born from our frustration of working with proprietary and complex file formats in data analytics projects. Every so often we had to load data that was locked away in obscure or hard to parse file formats such as XML or Excel. Whenever this happened we ran into the same set of problems. The data analysts took forever to make sense of the data and its structures. The developers had to write an endless number of lines of code or ETL data flows. The complex requirements resulted in buggy and hard to maintain code. Data quality issues were rampant. And once everything was finished it turned out that the code was not fast enough to blaze through the massive volumes of data on a single machine.
Reduce Cost – Reduce the cost of transforming complex data structures by up to 80%. One of our beta tester clients was able to eliminate a 120 day development proposal to batch load a large number of XML files by simply installing and configuring Flexter. This saved them in the region of 80,000 Euro in development costs and an estimated 10,000 Euro in annual support and maintenance costs.

Meet SLAs – With Flexter, organisations will never again miss their Service Level Agreements (SLAs). Flexter is extremely fast when processing data as it uses advanced algorithms and in-memory processing. One of our beta tester clients was able to cut down their nightly load of XML files from 7 hours to just under 7 minutes. Flexter was an astonishing 600 times faster on the same hardware.

Infinite Scalability (Big Data Ready) – Flexter can handle any volume of data. It is built on top of a distributed compute model and scales linearly. This is an important benefit in the era of exponential data growth. One of our beta testers had to load very large volumes of historic XML data. They could not have loaded this data with any of the existing tools.

Eliminate Risk – Data in proprietary file formats is typically embedded in a complex structure and requires specialist knowledge and niche skills for processing. These skills are rare and in high demand and come at a premium price tag. Even if you find the right skills it may prove impossible for data analysts or developers to develop a custom solution because of the sheer complexity of the problem. The risk of failure increases exponentially with the complexity of the XML files.

Meet Project Deadlines – By using Flexter, organisations can instantly meet project timelines without spending hundreds of man days figuring out the best way to process the data. Data becomes available instantly and analysts and developers can focus on delivering real insights and value to decision makers.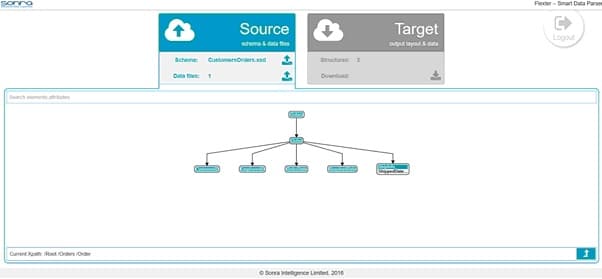 Flexter completely automates the process of parsing and processing XML files. No coding or ETL development is needed.
Flexter supports many output targets: CSV, TSV, Parquet, Oracle, Postgres, MySQL etc.
Flexter auto-generates a tabular output schema from XSD (normalised relational format).
Flexter auto-generates the column mappings from the XML data source to the target table.
Flexter auto-generates the table relationships of the target schema and their primary and foreign keys.
Flexter ships with various schema optimisation algorithms, e.g. it optimises the types of relationships between tables. This makes the target schema more compact and simple.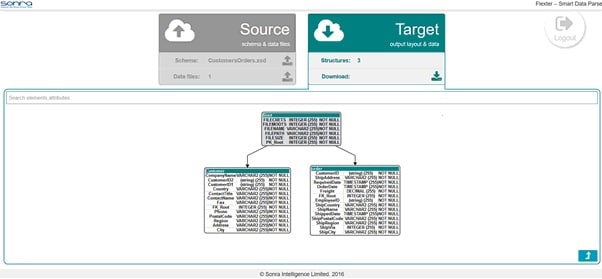 Flexter's execution engine completely auto-populates the target schema. No coding needed.
Each XML is loaded only once and shredded into its components. This XML shredding is XPath based.
XML processing can optionally happen in-memory for faster throughput.
Flexter scales linearly starting with one server.
Visual Schema Browser. Browse the XSD, the optimised target schema and the lineage between the two
Flexter for XML scales linearly with the number of CPUs and servers that are available for processing. This is reflected in our CPU based pricing model.  The larger your data volume or the faster you want your data to be processed the more CPUs are required.
Pricing is based on an annual subscription model.
Features

Free Online
Trial

Enterprise
Version

Max daily data limit

50MB

Unlimited

Scalability

Single instance

Clustered

Number of XSDs

1

Unlimited

Web Service support

File output formats

TSV

TSV,PARQUET,AVRO,ORC

RDBMS support

Data Source/Target Map

Scheduled execution

Support